You can go through the green data center design best practices if you want something unique to improve your infrastructure. These practices can help you greatly if you make intelligent use of them. Green data center designs are essential to developing a robust data center.
Green Data Center Design
As more and more organizations are starting to realize the importance of environmental sustainability and its role in corporate social responsibility, data centers are also increasingly becoming green.
Green data center design aims to build a more energy-efficient, sustainable data center. Compared with standard data centers, green data centers can implement many practices to save energy, reduce carbon emissions, and improve cost-effectiveness.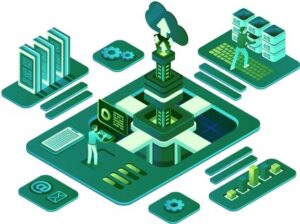 The first step in designing a green data center is to choose a location for your servers. It should be near your clients or have high-availability links to them. Choosing a location with access to renewable power sources, such as solar and wind power, is also essential. It is also crucial that you look into using cleaner energy sources, such as natural gas and renewable hydroelectricity, but this will depend on the country you are in.
You can do several other things to make your facility more environmentally friendly. For instance, you can use water cooling instead of air cooling since it requires less energy and consumes less water than traditional air cooling systems. Water cooling systems help reduce server noise because they don't have fans running all the time like traditional ones.
As the data center begins to transform, consider re-designing your data center to increase efficiency while reducing carbon footprints.
Power & Performance
Data centers frequently have concerns with utility costs. Power failures are to be considered as well because they can lead to an increase in uptime or a decrease in downtime. So, whenever you people are designing power systems, do remember to follow the following steps:
Servers
It would be best if you had your servers to be powerful. It may need to be corrected to state that your server should be named as a significant power draw. This is green data center design because the more servers are robust, the more strength or power is required to keep them working.
Cooling
Another source of power draws your cooling systems. For now, you need to understand that cooling is required during the process of high-density racking. It simply means more energy is in need. So, you need to take extra care of your space because you may need to know when your system demands cooling or power uptake.
 Emergency Power
Make sure to avoid power failure completely during downtime. And we assure you that you have robust solutions that will help your system keep running without creating obstacles.
 Sustainability
If you want to do something, add green energy resources to the infrastructures of your systems. In some urgent green data center design situations, solar power can be a source to keep your systems running. Secondly, this will also help you when the climate in that area is not suitable. Outdoor cooling can make the chances of a reduction in the power draw from the cooling system.
Power Usage Efficiency
Make sure that you are getting feedback on the overall power usage. Come to know about power uptake by the IT tasks and non-IT tasks. IT tasks refer to server power, and non-IT tasks refer to lighting, cooling, etc. If your IT tasks need continuous and consistent management, do something to reduce the power utilization by the non-IT functions.
Read More: Lowest PUE Data Center Recorded in Several Countries
Physical Space & Organization
Space management is an essential factor to ensure while making your data center. This is because you won't face any difficulty if future upgrades are required immediately. Proceeding further, green data center design may grow your needs from time to time. Have backup space so you can easily add the equipment on the spot.
When planning something related to your benefits and your facility, you can go through the following steps to help people use the available space efficiently and smartly.
Floorspace
Floorspace needs to be estimated. For future growth, you need some extra spare space behind for green data center design. It is, however, considered mandatory while planning for a new data center. With an upgrade that exists in previously available data, space may be optional.
Cabinets & Racks
As we people need racks and cabinets to house and for other reasons, we also want these cabinets and racks in the space so they can help us when we need them. These cabinets are then utilized and can save from any mishap of confusion.
Cable Selection
While planning for your data centers, do remember that every little piece of information is vital to be noted. While making choices for the cables, we suggest you choose the wires whose diameter is small and according to your needs. The cable should be able to avail you with the functionality you require.
Above & below
You can do wiring under the floor or in the rafter system. This will clear pathways. Cable cutters are also decreased by wiring inside. It can also reduce space usage. More space is reserved for future requirements.
Cooling Systems
Intelligence is about making a cooling system or airflow to have a green data center design. This system is a crucial component of the data center. The absence of these systems can have drastic effects on the data center. If they are not present, your equipment can get overheated, leading to failure.
These adequate damages took a lot of expenses to be repaired, and you may also have to suffer from data loss. Secondly, if overheating equipment is treated with cheap and local cooling systems, they immediately lead to potential blackouts and the wastage of money.
Cooling Equipment
For cooling, you people can utilize modern water-cooling systems. Such methods provide higher energy efficiency. The second option is that you can use traditional AC units, but the point is they may consume more than enough power. More power leads to more utility costs.
Airflow Design
If you are sure that your equipment is appropriately excellent and is designed for optimal airflow can become a trick to reduce your utility costs. You can make airflows available to sensitive equipment by utilizing paneling barriers. They can direct airflow to the equipment.
Security
Keeping your data private and a secret is a preferred thing. If you develop any green data center design, try strenuous efforts to protect it. Protection of your data is beneficial for you. It would be best if you took security as your priority. Ensure your data, facility, and networks are under security and strict supervision.,
Physical Security.You can install surveillance cameras, monitor, and limit entries, and it exists, guarding banned entrances to careful places and others.
Network Security Firewalls are only proposed to save your networks. Thus, you can use firewalls like IDSs, and ACLs to protect and secure your networks.
Data Encryption & Backup. Critical data is to be looked after strictly. It needs to be protected at any cost. Ensure you have applied and confirmed passwords, usernames, and backups to your most important data storage. Backup may protect you from sudden loss.
Conclusion
Green Data center design is the building of high-density and high-performance data centers that are environmentally conscious. A green data center can be designed to be environmentally friendly and energy efficient. There are a variety of benefits to building a green data center including: -Reduced operating costs – Increased energy efficiency – Increased opportunity for growth – Reduced environmental impacts